Development of skills in Digital Literacy is crucial in helping students become lifelong learners. To help you understand what this involves, we have carried out extensive research to produce a Digital Literacy introductory guide for teachers and educational managers.
The Cambridge Life Competencies Framework provides a map of the most important skills learners need to develop to effectively participate in the world and to fulfill their potential throughout their education, careers and lives in general. It is made up of six Competencies – Creative Thinking, Critical Thinking, Learning to Learn, Communication, Collaboration and Social Responsibilities. Linked to these competencies are the three foundation layers that underpin them all. One of these foundation layers is Digital Literacy.
This post gives a sneak preview of some of the valuable insights and practical content for teachers, provided in our Cambridge Life Competencies Digital Literacy booklet.
Why does Digital Literacy matter?
Ever-changing advancements in digital technologies are resulting in new and flexible ways of working, studying and engaging with the world. For our learners to make the most of the opportunities and face the challenges that digital technologies and online environments provide – both now and in the future – it is essential that learners become digitally literate. But what exactly is Digital Literacy, and how can schools and educators integrate its development into their English lessons?
How do we make sense of Digital Literacy?
"People's interaction with digital technologies are multiple, rich and complex; There is a wide array of practices involved in digital literacy."

(Hague & Payton, 2021)
Digital Literacy is about more than just using computers. To become digitally literate, learners need to develop a range of skills. They need to be able to use technology to search for and create content, solve problems and innovate. They need to be able to connect and communicate effectively online, learn, collaborate with peers, and discover and share new information. And while doing all of this, learners need to be able to recognise risk, stay safe online, protect their physical and emotional wellbeing, and practice positive online behaviours.
The Cambridge Life Competencies Digital Literacy booklet provides a comprehensive map of these skills. It's designed to help you gain a deeper understanding of what Digital Literacy involves.
Here are the competency's three core areas:

The framework also defines the components that make up each core area, and provides example Can Do Statements and example language for each stage of learning, from Pre-Primary right through to At Work. Have a look at these examples from the Secondary stage of learning:

What does Digital Literacy have to do with English language learning?
Developing digital Literacy skills is not only empowering and motivating in the English language classroom, but also relevant. Much of the digital content our learners will need to navigate – now and in the future – is in English. Luckily, the internet offers unlimited opportunities for English language development. Digital Literacy involves a range of skills – from using advanced search techniques, to choosing the most appropriate means of digital collaboration. These skills can be especially challenging in a foreign or second language. But as teachers we can help learners by explicitly including Digital Literacy development in our English language lessons.
How can we teach Digital Literacy?
Just as repeatedly jumping into a swimming a pool with no support or instruction won't improve our swimming technique, using a computer every day doesn't automatically develop our Digital Literacy skills. From judging the accuracy of digital information, to recognising threats while navigating the internet, our learners need to develop a range of skills to successfully participate in an digital world. Our framework helps you to understand what learners need. It offers a systematic approach to teaching Digital Literacy.
The guide offers a range of practical ideas and strategies for the types of activity that help to develop digital Literacy skills. Have a look at this example:
Integrating technology into topic-based lessons
Here's one example of how you can gradually integrate technology into a language lesson when teaching the topic of travel:
| | | | |
| --- | --- | --- | --- |
| Action | Tools | Device(s) | Activities |
| Using online resources to redesign traditional listening and writing tasks | Google Earth, Google Street View, museum podcasts or Youtube audio tours, blogging platform of your choice | Smart screen, laptop, VR headset and/or projector | Take a guided tour of a museum. Conduct a listening task in class. As a take-away, students can write about their experience on their blog and share it with their peers and teacher. |
Using blog posts for sharing and interacting online
Another great approach to helping learners develop these skills is to use blog posts for writing tasks. As well as helping learners to develop digital content, blogs provide excellent opportunities for learners to practice connecting with others online, and interacting appropriately in a digital space. Start by choosing a free blogging platform and introducing it to your learners. Spend some time discussing and agreeing on some "netiquette" guidelines for posting and commenting. Make sure to encourage learners to support each other in finding out how to navigate the platform's features. Next, have learners post their written assignments as blog posts, and encourage digital interaction and online collaboration by having other learners give peer feedback in the comments.
Discover more classroom activities and strategies for teaching Digital Literacy, and explore examples of how Cambridge learning materials can help develop learners' skills, in our latest booklet: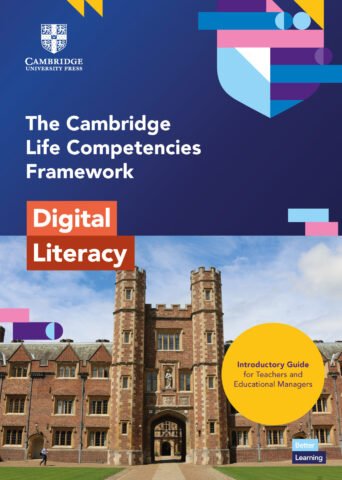 ---
References
Hague, C. & Payton, S. (2021). Digital literacy across the curriculum: a Futurelab handbook. The National Foundation for Educational Research in England and Wales.
---
Did you know?
The Cambridge Life Competencies Framework explores the key life competencies your learners need to develop, in order to compete in today's challenging world of work. We have booklets for each area, as well as each stage of learning. You can find them on our Cambridge Life Competencies web pages. They are designed to give you a deeper understanding of what each of the competencies involve. And, consequently, it allows you to integrate them more systematically into your teaching. Read our recent case study from Giga International House to see how you can use the framework in your school.
---